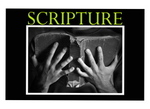 So, several weeks ago, I was apparently tagged by Rich Kirkpatrick to share my favorite passage of scripture. And I never really got around to it. in fact, I saw the post, but didn't realize it was a tag thang until someone else he tagged responded.
I had been intending then to share a single verse that has been my favorite for many years now.
Galatians 2:20.
I love it. But I'll let you check it out on your own. Instead, I'm gonna go a slightly different direction with this post.
I've had a pretty discouraging day today. Been pretty frustrated to tell you the truth. Great way to feel the day before I get the privilege of leading others into God's presence. (Note sarcasm…it's my spiritual gift sometimes.) But I received an e-mail today from someone at our church looking for information to get plugged into a Life Group. At the bottom of her e-mail were 2 scriptures. To be honest, I typically don't really notice scriptures tagged to a signature in an e-mail. But I happened to notice and read and it was what I needed to hear. So I thought for this "tag" I'd go ahead and share those with you. Maybe someone else needs to hear it, too.
Phillipians 4:4
Rejoice in the LORD always. I will say it again again: REJOICE!
Numbers 6:24-26
The LORD bless you and keep you.
The LORD make His face shine upon you, and be gracious to you.
The LORD lift up His countenance upon you, and give you peace.
Sidenote: the rest of that Phillipians 4 passage is well worth reading too. Through verse 9. I needed to read it all today!
…Ahhh, what the heck, here it is:
Rejoice in the Lord always. I will say it again: Rejoice! Let your gentleness be evident to all. The Lord is near. Do not be anxious about anything, but in everything, by prayer and petition, with thanksgiving, present your requests to God. And the peace of God, which transcends all understanding, will guard your hearts and your minds in Christ Jesus.

Finally,
brothers, whatever is true, whatever is noble, whatever is right,
whatever is pure, whatever is lovely, whatever is admirable—if anything
is excellent or praiseworthy—think about such things. Whatever
you have learned or received or heard from me, or seen in me—put it
into practice. And the God of peace will be with you.
Anyway, there you have it.
Your turn: Rachel, Tim, Jenny, Steve