As I mentioned was the plan last week, I went to visit Life Church in Temecula this past Saturday. They are a 3 year old church plant in Temecula that sets up in a middle school every week. Rachel and I went down late in the morning in order to meet up with the worship pastor, Eric Beeman, at his home.
First he took us by the recording studio/ELI house. The use of this house is being donated to the church, and it is a house where they allow their interns to live rent free as they serve. Then we grabbed lunch before heading to the church. It was great to sit and hang with a friend who has similar passions and involvement in ministry.
Then we arrived at the church at around 3 pm. This was really the main reason I came – to watch and learn some more from their setup. This week it was fun watching a room go from this: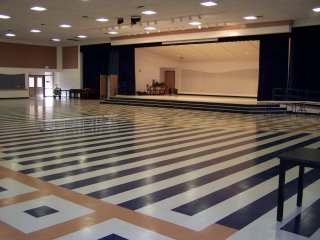 In this case it actually took a few hours, but to their credit, they were trying some new setup ideas this week. From talking to some of them, it also seems like Saturday afternoon has been a tough time to get volunteers. Since I wasn't running sound like last week, I had a little more time to run around and take some pictures. Here's a couple that I took that were helpful: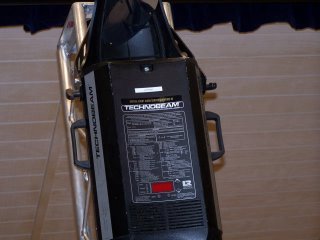 cool idea for the hanging of a techno beam on the stage on some trussing. may come in handy as we try using a few intellabeams.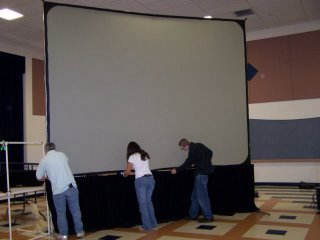 the 2 outside screens were stinkin gi-normous – pretty cool.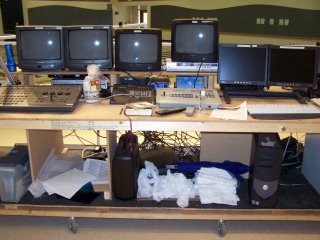 pretty cool rig – on wheels – for their video camera/easy worship screens.

Anyway, that was just a couple of the 60 or so pictures I took. Here's a few other thoughts:
It's nice to have storage on site. This is a luxury we won't have, but I think we've planned really well to make it simple regardless

The more the merrier. I just know that the more people we can get involved in setting up – especially in the sound and lighting area for me – the faster it will go and the more fun we can have doing it

Lighting is key. They did a great job with their lighting scheme. We have ordered a lot of new and high tech lights for our move, and I'm excited to see how we can creatively use these to add to our atmosphere even more than we have so far. This also means more light team volunteers to learn how to use it, so if you might be interested, e-mail me: bobby@revolution242.com

It's just really fun to see a room go from an empty and bland space to a creative space that will help people enter into God's presence in an atmosphere somewhat familiar to them.
It was a blast to hang out for the service and get to worship and enjoy. Afterward I had dinner with their lead pastor John Rulman where we were able to get to know each other and I got some great insight and thoughts on the first several years of ministry in their church.
All around it was a good day and well worth the drive. I really am looking forward to the opportunities that lie in front of us at Revolution Church in a similar situation as we head into our grand re-opening month. Thanks a ton to all the guys at life church who let me hang out and learn from them. They are all great people and I know that being around for the experience gave me some great ideas for us.