This past Saturday I continued my learning about multi-site churches with a visit to The Edge at North Coast Church in Vista. North Coast was the first church to attempt the video venue concept back in 1998. The church is located in an industrial business complex where they now own a majority of the space and have 5 different venues on site for their services.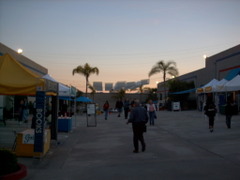 This time, I didn't visit quite so covertly. I contatcted one of the Senior Pastors, Chris Brown, before coming. He is the venue pastor for "The Edge" as well as one of the two teaching pastors, a duty he shares with Pastor Larry Osbourne.
I spent most of the service at this venue, which is their younger, more rockin venue. Loud music, thumpin bass, my style. I didn't really get an accurate count, but I would guess there was probably about 300 or so people in there.


During much of the worship, Will and I took some time to check out each of the other venues happening simultaneously. First stop was Country Gospel. This service takes place in "Traditions", the venue that houses there hymn singing service on Sunday morning. It was pretty fun in there with a stand up bass, a fiddle, and some acoustic guitars.


As we left, Will commented that it was kind of like being at Disneyland visiting all the different lands – and we had just left the Bear Country Jamboree. From there we visited the Video Cafe. This venue had a lot of food at tables across the back, a little brighter lighting, and was a more casual and relaxed setting. Then there was the family room. This was the only venue without live worship and was for parents to bring their children into. Really it was more of a glorified overflow room than a venue. There were only 5 or 6 people there when we arrived.
The tour finished with a visit to North Coast Live where the teaching was actually going to happen…live. There was a much more intricate lobby to this building with chairs and TV's of the service inside, as well as a little book store/coffee shop type of area. I was sort of expecting to walk into a huge mega church feel of a place (North Coast has an attendance overall of about 6500), but was surprised to find a much smaller building that only seats about 450 people. North Coast offers 23 services between Saturday night and Sunday morning, so none of the services feel like your at a mega church at all.
So I ended up back at the Edge for the announcements, message, and remainder of the service. All of the venues saw the same video advertising the Women's retreat, and then at the tail end of Chris' announcements, he was rushed off a bit by the live feed of the teaching coming in. Larry Osbourne was teaching that night. Again I was pleasantly surprised by how awkward it didn't feel watching the message on the screen. This has always been my biggest hang up with video venues, but it seems at times as if he's in the room. When he would ask people a question they would raise their hands in response, repeat verses back to him, and laugh at the appropriate times at jokes.
After the message, Chris came up and really wrapped things up, and the service finished with one final worship song and a prayer. Here's a few other things I noticed:
Good parking situation with visitor parking near the front

I was greeted very kindly by the parking guy and then again at The Edge by some greeters

There were greeters at each venue that were very friendly as we stood at the back of the room to observe

After the service, we still didn't have any regular attenders approach us to say hello, so it's a good thing the greeters had at least made contact with us. I have been finding more and more, though, how rare it is to have people really greet and respond to a new person if it isn't their "job"

It was really nice to have someone at the venue who was up front and felt like a leader of sorts
After the service, Chris Brown was kind enough to give us like 90 minutes of his time to interview him and just hang. This was very enlightening and an amazing opportunity to hear more about the churches vision and philosophies. That's where part 2 of this post comes in. By the end of the week, I will try to put up some notes from my interview with him. This is definitely enough for one post though.
Overall, my visit to this multi-site church was a great experience and a place that I would totally be excited to visit again, or even attend if I were in that area.