This past Saturday we got together for our life group bonfire. It was actually a gathering of three life groups that have multiplied out of a group that started in our condo in downtown Long Beach. We probably had 15 or so people come out and we had a blast throwing the football, making s'mores, and playing some worship at the end of the night.

A few days before the bonfire, I realized nobody had talked about getting wood for the fire. As I asked around, I was made aware that there were some headboards around that were gonna be thrown out, so we loaded up the back of my truck after cutting off the legs. Unfortunately we didn't have the saw to cut them in half, so we had some pretty large board to try and figure out burning in the firepit.
So after putting the few small pieces we had in the pit and dousing it with lighter fluid, we decided we would start by making a teepee of these rather large boards.

That made for a good looking big fire for about 2 minutes till the boards collapsed and came tumbling out of the pit. Kinda dangerous, but it was hilarious to see us trying use other boards to control the wood. We finally found that the best way to go about it was to just lay it over the pit and let it burn til it could fold into the fire. Good times! Lots of laughs. Our life group rocks! Here's a few other pics from the night.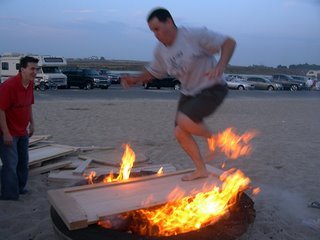 Stephen displays his faith in God.
(His foot's not really on fire, but that picture looks pretty cool!)