Well, you'll just have to watch the video at the bottom for the proof. Just consider yourself warned!
So on Wednesday, Rachel and I had the privilege of getting a 4D sonogram done. It's amazing how much you can see with these things. Kinda helps you realize just how real the little guy is I guess! Here's a few pics we got: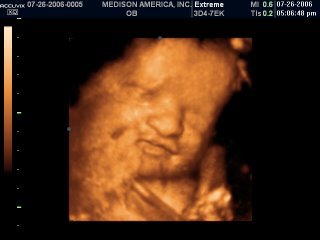 "Aren't I cute when i'm smiling?"



Yawning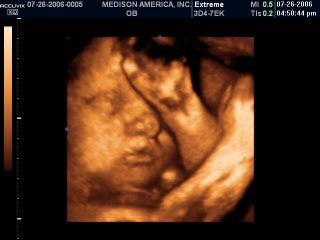 What can I say…I guess I'm already being the proud dad!
So here's the deal: there's a great guy in our church who did these for us. He works for Medison which is the company responsible for developing the technology to make these things possible. Here's the cool part. They do training sessions for sonographers in the medical field and need pregnant women to train with regularly. So if you're interested in getting some shots of your own (and you're pregnant, of course), go to their website, give them a call, and they should schedule a time for you to come in and be a part of the training. They get the patient, you get the sonogram and pictures absolutely free! I think they said they look for ladies at either 20 weeks or so and 28-30 weeks.
We also got some great video clips that I threw together to make a short little video with the pics. Check it out below if you wanna! 2 more months!!