Been a while since posting. It was an eventful week and weekend last week. Emotional too. Send off at Church. Going away party at Fuddruckers. Lots of "see ya laters."
And now I have 2 weeks of unemployment to vacation and get everything ready for the big move. This week we've been spending time in Canyon Lake and San Diego spending some quality time with family before hittin the northern coast.
Today was spent with my sister and Caleb's 7 day older cousin, Ryan, at the world famous San Diego Zoo. Check it out:

With the elephant in the background. Caleb only seemed to wanna look at the plants.

Caleb and Ryan as spider and fly. Go get him son!

Moms and the boys ridin the turtle…

…and the Marchessaults on the turtle.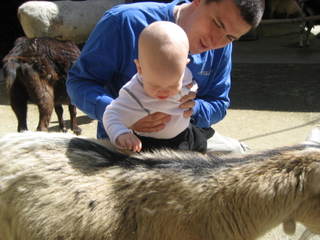 Caleb had a blast petting the goats.

And of course my hot wife holding our good lookin son in front of the Orangutans.
Afterward we met the rest of the fam at Barona for a glorious (and cheap) buffet. I feel so stinkin fat right now! You can definitely expect the weight loss posts to return in the next couple weeks. It is definitely time. I feel bloated! Good night.