Most of you know I used to be a singing, dancing dwarf at Disneyland. (Not the ones in the big headed costumes.) Anyway, if you know me well, <charlie garrison>, you love to make fun of me and call me short. If you only know me through my blog, you may be thinking, "well, he doesn't really look that short." (I was tied for the tallest dwarf in the cast, by the way.)
Well yesterday I met another blog friend over lunch here at Saddleback. Victor Estrada from The Wonderful Noise. If you doubted before, I think this picture says it all: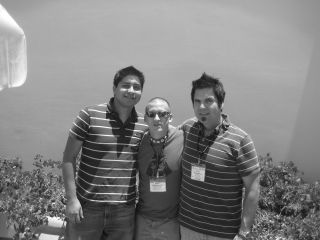 And I didn't get the memo about the brown, striped, collar shirt.