We're sittin in the freeway (moving slowly) on our way North from Saddleback. I'm online via my phone as a modem via bluetooth and sharing my connection with David in the backseat via airport, powering my Mac via power converter plugged into lighter outlet and powering my phone via USB cable. I love modern technology.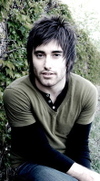 Not a ton to say about today. Mostly cause we chose to sleep in and miss the first general session. we But
made sure to get there by 11am to see Phil Wickham. I had never heard Phil before. He is amazing! Great singer. Great songwriter. Great worship leader.
Met up with some worship leader friends from Life Church in Temecula and Tides in Lake Elsinore who drove out to connect for lunch. It was fun catchin up and talking worship and theology.
Caught a quick session this afternoon on multi-sensory worship led by Greg Atkinson. I've read a lot of his stuff at Monday Morning Insight and listened to his Creative Synergy podcast a few times. It was basically a brainstorming session on ways to creatively engage each of the senses in our worship experiences.
Skipped out of that a few minutes early so we could hit the road, skipping the rest of the day with a LONG drive ahead of us. Hopefully I'll roll into San Jose around 11 or 11:30pm, and then it's into a long weekend of catching up on work tomorrow!
I took some video footage the last couple days. We'll see if I get the time to throw it together.