How we spent out Thanksgiving.
First, meet out at Mission Hills Middle School for a game of tackle football.
A good reminder that I'm old and out of shape.
My body still hurts.
Then to the church.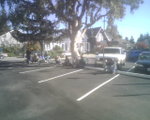 For the past 25 years our church has done an annual community dinner. A free meal for the homeless and needy in the community.
It started at 10 and there were already plenty of people in the parking lot waiting when I showed up around 9:45. I don't think we kept count, but we fed a LOT of people today.
I got to drive our 15 passenger van around Pac Ave and around the beach flats picking up and dropping off any homeless who wanted a free meal. I wasn't

really that excited to do it. It was one of the coolest things I've been able to do. Getting to talk to these people during the ride. Getting to learn their names. The homeless are a huge percentage of our community here in Santa Cruz.
A good reminder to care for them as people more than just one day a year.

The rest of the day has been chilling with both our families at the house. Rachel's other brother and his fiance show up late tonight, so we're doing the typical Thanksgiving as a family tomorrow