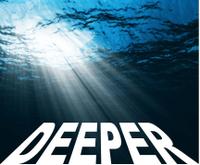 Yeah, I know, I know. I gotta get back to the video stuff. But as far as services, our video camera isn't working, and the churches seems to be missing the power adapter/battery charger. And I don't feel like doing the iMovie thing right now…I need a haircut. So you get this.
As you may have read earlier this week, I had the honor of both leading worship and teaching this past Sunday. We are in a series called Deeper where we are talking about going deeper in Christ and how we do that. A few weeks ago was Deeper Through Knowing, and this week I got to talk about worship in Deeper Through Worship.
The main point of the teaching was actually more to get away from the idea that our quiet time with God every single day has to look like reading my Bible for x minutes and praying for x minutes. Reading and praying are important, but not everybody connects with God primarily in these ways. God made each of us uniquely and therefore we are created to connect with him uniquely. In turn, we all worship a little differently in our personal times, and it is authentic personal worship during the week that leads to authentic and passionate corporate worship on Sunday mornings.
Here is an idea what the service looked like, songs and also the message is embedded below for anyone that wants to listen to it. It's the little button after the first 2 songs. That's where we actually plug the message into the morning, so I thought I'd let you see the flow here. Here it is:
Majestic – Brewster
Indescribable – Tomlin

Breathe
Only You – Crowder
How Great Is Our God – Tomlin
Center – Hall
Let the Praises Ring Brewster
I wanted to do one other song, too, but I'm a typical pastor I guess…I talk too much! Overall I think it was a fairly good morning. I found it tough to concentrate this weekend, and this seemed like a tough message to put together, so I didn't actually finish it till around 2am the night before. Thanks to Rich Kirkpatrick for steering me toward checking out Sacred Pathways by Gary Thomas. I couldn't find the book anywhere in driving distance, but it led to some great concepts I grabbed from John Ortberg.
A few other things worth mentioning.
Since I was teaching, at the very least I thought it would be nice to have someone else lead the first song. Lori Hazen, an awesome member of our Worship Lead Team who is leading worship more and more did a great job leading Breathe.
I read a "call to worship" of sorts at the end of the message. It was from Charles Spurgeon and called on every part of our being to rise up to worship God. I almost didn't read it because of time, but I'm glad I did. I think for some, it really set the tone of worship nicely going into the response time.
Throughout worship and the message, one of our high schoolers and an amazing artist, Megan Bradley, painted throughout as her form of worship. Then during the response time, we invited others to create as well with a table of watercolor materials at the back of the room. That was really cool. Take a look at her art, inspired by Psalm 139:13-18