While visiting Portland, I was most looking forward to visiting Kari's church here, Imago Dei.  It may sound familiar to you as the home church of author Donald Miller or the church that birthed the Advent Conspiracy movement.
I love going to different churches to learn, get ideas, be inspired, and of course, worship without any responsibilities on occasion.  Here were some of the things I noticed while there.
Kids Ministry
So, several times I've visited churches and kinda reported on my experience here at the blog.  Well, I realized kids ministry isn't something I ever discussed, because well, it didn't affect me then.  Times have changed.  And as a parent, I can tell you that Imago Dei's children's ministry kicked butt!!
First of all, it's important to notw that Imago Dei sets up and tears down at a high school every week.  Portable church.  Not sure that I miss that.  So we went down the stairs where there was a very clear sign for the nursery – 0-24 months.
As soon as we got down there there was a check in area where they got our name and his.  He received a name tag with a bar cose that was scanned and we received a corresponding name tag with a number for him if we were needed during service.  They had some really cool blue dividers that clearly and nicely split up the children in several different age groups.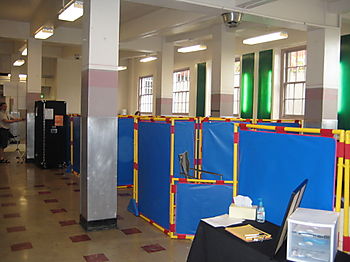 As a parent I felt really good and really safe leaving my kid down there.  And added bonus when we went to pick him up.  We were heading in to go grab him, and we were stopped as were were heading in the area by a gentleman to see our nametag with bar code before going in there.  Then as we were leaving both tags were checked and returned.  Way to go Imago Dei on taking care of families!
The Experience
So we arrived near the high school a few minutes late.  Around 10:35 for a 10:30 service.  Definite issue for them is parking.  And we drove around for quite a while looking.  We ended up parking on a street quite a walk away from the school.  But there were lots of people driving around looking for a space.  Again, in a place like we are where we have parking issues, a great reminder.  Whatever it is that's drawing them there, if it's good enough, people are willing to walk and be inconvenienced to go there.
The high school is an old brick building with a way cool vibe.  No matter where you meet it's the little thins that make a difference in welcoming guests.  So while this was a little thing, I was impressed and couldn't help but snap a picture in the men's restroom.
They set up a changing table in the middle of a high school restroom.  What can I say.  I thought that was kinda cool.  And thoughtful.
They also had some nice setups to share about ministries at the church:
We walked into the worship space at the beginning of the message, being a bit late, so we stuck around for the beginning of the next service to see what we missed.  the vibe of their auditorium is very cool.  They are in a series being taught by one of their elders who is a seminary professor on the reliability of scripture.  The content was really good, but a bit dry at the same time.  Best part of the message was when he brought it home with some application at the end.
We head on into worship as a time of response.  They also had communion tables in front and at the back of the room.  I understand they have several different worship leaders and teams that rotate.  The worship time was really good.  Kinda what I would expect to contextualize in a city like Portland, if that makes any sense.  A little more mellow rock vibe kinda thang.  As I worshipped I couldn't help but feel some tears welling up.  not sure if the Spirit was just moving in there or it's just kinda where I'm at right now.  Probably some of both.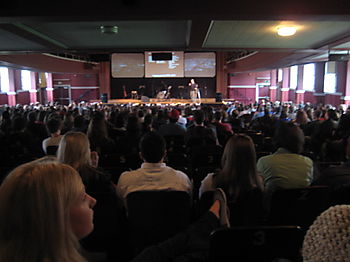 Some Final Learnings/Observations
Like I said earlier, people are willing to walk and go out of their way if it's worth it to them, whether that's for the experience or the community aspect.
Communion was available during the response time.  I had noticed the tables, and as a guest I was listening to see if it was just go ahead during worship.  To me, it wasn't very clear, but luckily I was able to ask Kari.  Good reminder as to how important it is to let people know about this each week, even if I sound like a broken record.  Guests need to know what to do.  Even having it in the bulletin would have helped.
Lots of people responding and receiveing communion during worship regardless.  Gotta figure out how we can help people to respond more in this way at CLC.
They had one table for communion at the back that provided Alergen free crackers.  Gluten free, etc.  Thought about a friend at CLC who can't have gluten.  What a great idea.  This had never occurred to me in regard to communion before.  Might wanna think about making that available.  They also had your choice of juice or wine which I thought was pretty cool, but somehow I have a feeling some people at CLC wouldn't go for that one.
Wrote a lot about it above, but putting guest parents at ease goes a long way.  I wasn't concerned about it, and still appreciated the effort.  I can only imagine what that is like for the parent who is unsure about church in the first place.
I'm sure there was more, but this post is long enough already.  Overall I had a great time visiting Imago Dei.  Great church, and being able to meet several people from Kari's Home Community Group, seems like great people, too.  I love being a guest and remembering what it's like to be on the other side.
But I also can't wait to get back and worship with my faith community next Sunday!