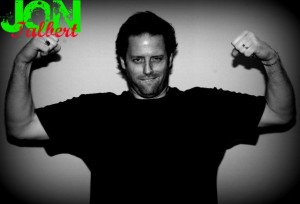 I met Jon Talbert a couple years ago when he shared about Beautiful Day at an event in Santa Cruz.
Jon oversees Beautiful Day in San Jose which I believe has raised more money than any other organization in the history of the AIDS walk in San Jose if I remember correctly.
Jon has a huge heart for people and for the issue of AIDS.
And the guy is funny, too.
I had heard that Jon was doing comedy at clubs in the area, and knowing that he cares about the issue of AIDS and is a great performer, we asked him if he would be a part of this event as our featured comic. Â He was glad to help out and we we're stoked to have him.
Here's a little more info on Jon from his bio:
Jon Talbert is a well known Bay Area comedian and motivational speaker who has performed to young people and Universities throughout the nation.  Locally, he has done shows to packed venues such as the Heritage Theater, Rooster T Feathers, The Improv, The Ice House, The Santa Clara Civic auditorium, and the Mountain Winery.  Jon has also performed with national headliners such as Brad Stine, Tommy Drake, Mark Lundholm, and Clinton Jackson.  Jon also serves as the chaplain to the San Jose EarthQuakes.
Check out this video of some of his comedy:
He also said he'd bring along an opening comic.
So Charlie Thayer will be coming to do some material as well.
I don't know anything about her, except that I've seen her do some pretty cool whiteboard art once and another friend of mine said she's hilarious, so I'm looking forward to hearing her bring it to open the evening tomorrow night.
Advance tickets will be on sale til noon tomorrow. Â After that, they're 5 bones extra at the door.
Come ready to laugh!