Another friend of ours that is donating a piece of art for the event is Michelle Nicely.
She has become a good friend of ours after Rachel and her got to know each other at Creative Play.
Michelle used to work in the entertainment industry down in the Los Angeles area before coming up  to Santa Cruz, so we had the SoCal connection right off the bat.
Michelle is donating a piece with 100% of the money going to Santa Cruz AIDS Project.
Check out some of her artwork at this website.
I'm way stoked to have Michelle as a part of Art for AIDS.
Another really cool venture we've been able to watch Michelle get started with is her own clothing line for kids.
She designs all of the clothes and sells them locally, and they are ALL made with fair trade. Â The clothes are super creative and super cool.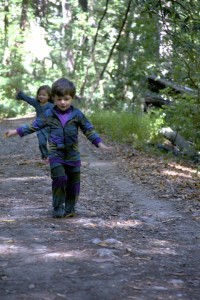 We have a couple of things we got from her for Caleb and Micah.
If you've got kidlets or know someone with kidlets who need a good Christmas gift, you need to go to her website for 3 Little Stars NOW and get something.
Such great clothing, and you're supporting a local artist and fair trade.
And then get a ticket for Art For AIDS to check out her artwork this Saturday.