Tomorrow, Rachel and I leave town without the kids to this place: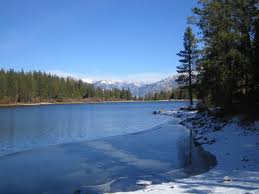 That would be Hume Lake.
I picked the one with snow in the pic, cause, well, I read it could snow in the area this week.
Our network, Converge PacWest saves a couple spots for church planters at the pastors retreat there every year.
Never been to Hume Lake.  Supposed to be a mecca of Christian retreat/camp places so I hear.
I'm just looking forward to getting away with my wife for a few days.
As soon as I get back I head for 3 more days of retreating at the Santa Cruz All County Men's Retreat.
I get to lead worship there and it should be a blast.
I haven't been blogging lately, and it isn't for lack of things in my head to blog about.
So I'm hoping after a week of being pretty much unplugged, I'll get back to making some time to post.
There's plenty to post about:
Our Missio Dei Labor Day BBQ (Maybe too late for that?)
Thoughts on being "100% sure" of our calling to plant in Santa Cruz
Recap of our church riding in and being a sponsor of the Surf City AIDS Ride
One of the most amazing nights of worship leading with my former community of faith and family
Recap of San Francisco Triathlon (now that was a loooong time ago)
Other random thoughts that probably won't get posted about beyond this:
Charlie & Bridget had a baby! (Good friends. Was gonna post pics but missed the window of opportunity.  Sorry guys.)
My Chargers provide a roller coaster of emotions.
My Fantasy Football team sucks.  0-4/  But it's all good.  Who wants to be the '72 Dolphins when you can be the '68 Bucs?
Brought home some stuff from my mom's house: a piano, a big TV, the nicest car I'll ever own, some paintings, and half a freaking garage full of Hockey Cards.
Finally bit the bullet and got Dish Network.  First time with cable in 3 1/2 years.
Caleb turned 4.  And he likes to tell everyone.
Oh, and if I didn't share yet, I'm working part-time leading worship on an interim basis in San Jose.  That one actually probably will get more post time.
But Monday morning I turn off the laptop, and intend to leave it off til Thursday afternoon.
I will probably be in a cold sweat by Monday afternoon, but hopefully by Thursday I'll be done detoxing.
Catch ya in a week (I hope).