OK, so maybe she wasn't a triathlete when I married her, but she sure is now!
After trying to convince her for a year and a half that she should try a triathlon, with her telling me she had NO desire, she finally took the plunge.  I chanced upon the way to make it happen when I talked our good friend Christal into it.  She wanted to train with Rachel so they decided to do one together.
They started training back in November.  They're very first workout consisted of 6 minutes of running and 24 minutes of walking.  They struggled to gt through all the running, and now I'm scared to run with em cause they just might smoke me!
It was in June, but I had to get pictures up here cause I am seriously so proud of both Rachel and Christal.  So cool to watch them be dedicated to the training and even see some drastic life changes as they both chose to live healthier.
They finished their first sprint in an hour and 40 minutes, which was even better than they expected.
Here's some pics.  I have some of them getting out of the swim, but if I remember correctly, they both threatened my life if I put up pictures of them in their bathing suits.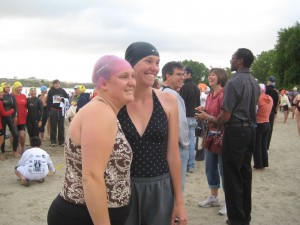 Caleb scoutin out the finish.                                 Pre-swim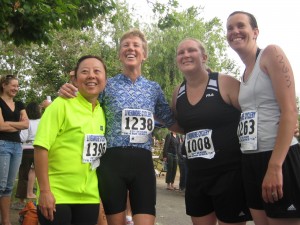 Oh yeah, some dude proposed at the finish.         The finishers.
Click here to check out a video of their sprint to the finish.
Great job ladies!
And I think at our last Missio Dei gathering, like half of us were triathletes.
Sorry Dan & Katie!  We may get you someday.


Ok probably not.  But that would be pretty cool.
I'm sure there will be a more complete race report from my wife when she catches up on her blog.
Christal wrote about it over here.
So who's next?!