Along the way in life and in ministry, there are people you meet who you know are friends for life.
As Rachel and I have moved around a bit, there are certain friendships that show themselves to be legit when they stand the test of time and distance.
I was reminded of a few of those recently – and one in particular – when I was packing a small suitcase about a month or so ago.
I popped open a zipper and found this in there: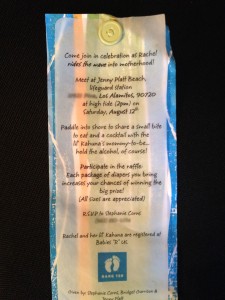 A baby shower thrown by 3 of our closest friends when Caleb was pregnant 8 years ago.
Right around the corner is Jenny Platt's birthday.
She's being celebrated by her friends and family leading up to that. Â Don't read anything into the numbers, of course.

So this is a quick post to let not only Jenny, but everyone else as well to know how awesome Jenny is and how much she has meant in our lives.
I like to think that we still have that invitation because we never quite wanted to throw it away because of what a meaningful gesture it was to us.
And Jenny has always been amazing at that. At celebrating and blessing others selflessly and all out.
She spearheaded this awesome party with Bridget and Stephanie.
When I left Revolution and Southern California, she was the one who organized a going away party at Fuddruckers where people gave us letters about how our ministry had blessed them. Â It meant so much.
Many a night were spent on visits back to Long Beach staying up late in the Platt's living room discussing life and solving the worlds problems.
I think of Jenny every time there's a season finale for Survivor as we spent more than a couple with them.
And of course, then there was the time a few years ago that she crashed at our Santa Cruz home while we were out of town. We hung out with them their first night and then had to go. Â When we got home there was a card where their family and the Lasch's had put all the things they thanked us for. Â And of course I had to laugh when I saw "liberal babble" in Jenny's writing.
All that to say, Jenny is one of the most fun and selfless friends we've ever known. Â Her and Darrenn are part of our support teams for Missio Dei Community and I am so blessed that we still get to do ministry with them from a distance.
Jenny – thanks for being and amazing friend and person. Â I can't wait to see all the people you bless and the way our friendships continue to grow in the future. ANd a blogpost can't come close to conveying the mark you've left on mine and my family's lives. Â Thank you for being you.
I hope you feel really loved and really special during your 40 days and beyond.
Happy early birthday.